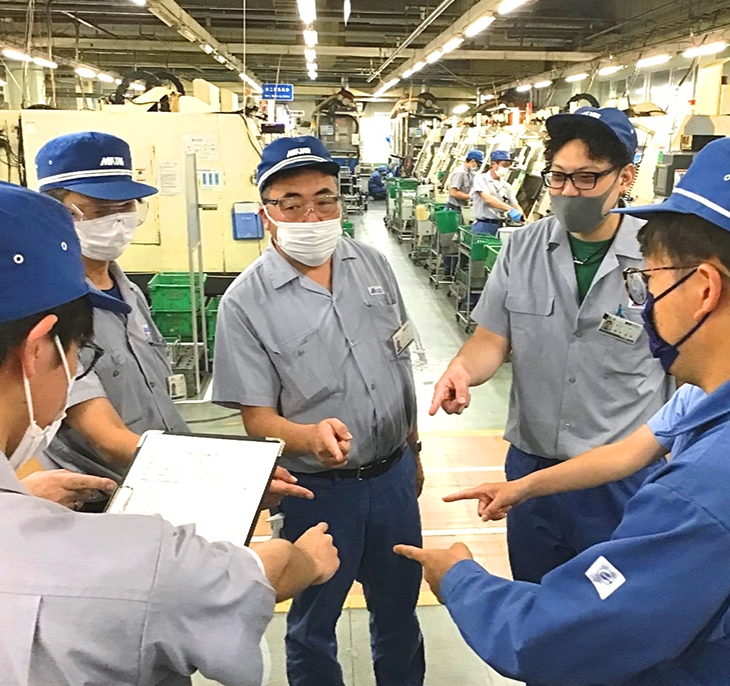 ● We believe that "fostering a culture of safety" is the foundation of our business operations and takes precedence over everything else.
● Steadily promoting Occupational Health and Safety activities is a guideline shared by the entire Mikuni Group.
● With the aim of ensuring the appropriateness, validity, and effectiveness of our activities, we are in the process of acquiring certification for our Occupational Health and Safety Management System (ISO 45001). In March 2021, Kikugawa operation site and Morioka operation site obtained the certification. Group companies are also working systematically to acquire certification and Mikuni India Private Limited, Mikuni (Thailand) Co., Ltd. and Mikuni (Chengdu) Machinery & Electronics Co., Ltd. have already acquired the certification.
Basic Safety Philosophy
We provide better "manufacturing" that is trusted by customers in a workplace where people are put to good use by "pursuing for safety, hygiene and health" by each and every employee.
Occupational Health and Safety Policy
In accordance with our Basic Safety Philosophy, we* strive to develop our business operations in consideration of health and safety by following the Occupational Health and Safety Policy below.
Risk Management
We strive to eliminate or reduce possible risks with the aim of achieving zero industrial accidents.

Compliance with Law and Regulations
We comply with laws and regulations concerning occupational health and safety.

Target Management System
Through our target management system, we assess performances and visualize results and accomplishments.

Continuous Improvement in Systems
We strive to adhere to the 5S program and continuously improve our facilities and operation methods in order to establish a safe and hygienic workplace environment. (5S is short for Seiri [sort], Seton [set in order], Seiso [shine], Seiketsu [standardize] and Shitsuke [sustain].)

Establishment of Frameworks that Engage Everyone
We strive to communicate effectively to ensure that the views of workers are reflected in our decision-making.
* "We" here is Mikuni Corporation and all its affiliates, suppliers and business partners.