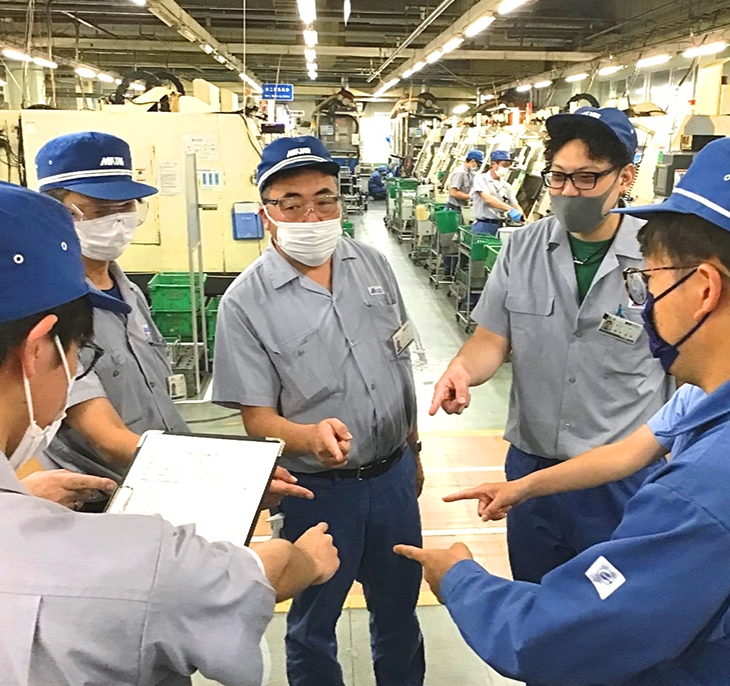 ● We believe that "fostering a culture of safety" is the foundation of our business operations and takes precedence over everything else.
● Steadily promoting Occupational Health and Safety activities is a guideline shared by the entire Mikuni Group.
● With the aim of ensuring the appropriateness, validity, and effectiveness of our activities, we are in the process of acquiring certification for our Occupational Health and Safety Management System (ISO 45001). In March 2021, Kikugawa operation site and Morioka operation site obtained the certification. Group companies are also working systematically to acquire certification and Mikuni India Private Limited, Mikuni (Thailand) Co., Ltd. and Mikuni (Chengdu) Machinery & Electronics Co., Ltd., Mikuni (Shanghai) Co., Ltd., PT. Mikuni Indonesia have already acquired the certification.
Basic Health and Safety Philosophy
We recognize the importance of occupational health and safety as one of the foundations of our management, and strive to create a workplace where employees can work with peace of mind and vigor, and to ensure the health of all employees.
Occupational Health and Safety Policy
We work to achieve zero accidents by creating a safe and comfortable workplace, and to maintain a culture in which each and every employee can work in good mental and physical health.
We promote specific activities to achieve the following objectives.
i) Zero occupational and commuting accidents by considering daily work activities, natural disasters, and emergency situations.
ii) Creating a comfortable workplace through various improvements in terms of health.
iii) Recognition, establishment, practice and enhancement of the Declaration of Health and Productivity Management.
We comply with the requirements of laws, regulations, and rules related to occupational health and safety, as well as the requirements of local communities and customers, and strive to prevent injuries and illnesses by improving the level of management of health and safety.
We proactively identify potential sources of danger in our activities and reduce risks in order to maintain a safe and secure workplace.
We make group-wide efforts to implement health measures so that all of our employees can stay healthy both mentally and physically.
We apply the Occupational Health and Safety Management System and continuously improve and maintain it.
Rules and details related to workers are determined through discussions between the company and workers (or their representatives).
We evaluate the results of our activities related to occupational health and safety on a regular basis and review them as necessary, and provide necessary education and training, including the improvement of health literacy*, to all of our employees in order to achieve our goals.
*Ability to identify, understand, and utilize correct information on health and medical care based on a certain level of knowledge and expertise in health.