To our Shareholders and Investors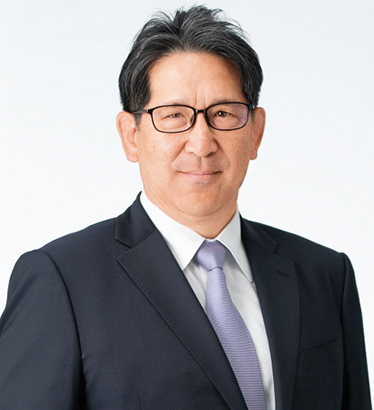 Aiming to become a sustainable and highly profitable company based on "monozukuri" (manufacturing), we are promoting our long-term business plan "VISION2023" toward the 100th anniversary of our founding in 2023. Under such circumstances, in FY2020, demand plummeted due to the global spread of COVID-19, and consolidated net sales decreased by 21% from the previous fiscal year. Despite the sudden change in the business environment, we were able to secure positive operating income and ordinary income thanks to our cost reduction activities and fixed cost reduction.
In the automotive related products business, demand bottomed out in the second quarter and has been recovering since the summer. In India, which is our focus market, urban blockades were implemented, but after the blockades were lifted, our production was strong, especially for products for motorcycles, which are necessary to comply with new emission regulations.
In the lifestyle-related products business, as a result of reviewing the product strategy, the operating loss narrowed while sales remained at the same level as the previous year. In the trading business, the import and sales of aircraft parts declined due to a drop in air passenger demand, but the Company streamlined management by consolidating the sales of turf-care equipment and other businesses into a Group company.
In response to the global spread of COVID-19, as well as the ongoing discussions about the global environment, we have revised "VISION 2023 Final STAGE", our mid-term plan for the period from FY2019 to FY2023, and incorporated into the plan increased efforts to address climate change and digitalization. We will strive to reduce greenhouse gas emissions under the theme of "carbon minimization" in order to respond with realistic solutions from the perspective of LCA (Life Cycle Assessment). At the same time, by promoting DX (Digital Transformation), we will aim to shorten the time required for all work processes and strengthen our competitiveness, including our ability to propose solutions to social demands.
With "safety and quality," "compliance," and "education and health" as the cornerstones of our activities, we will continue to promote activities aimed at realizing a cycle of improving the sustainability of the earth and society while also developing ourselves. In FY2020, the Kikugawa Plant (Kikugawa City, Shizuoka Prefecture) and the Morioka Plant (Takizawa City, Iwate Prefecture) acquired ISO 45001 certification as part of our sincere efforts in occupational health and safety activities despite the drastic changes in the business environment.
We would like to ask for the continued understanding and support of our shareholders.
Sincerely thank you all for your cooperation.
June 2021



Hisataka IKUTA
President, CEO & COO